Attendance
Please look at the document below detailing new information about medical absences and unauthorised leave.
In the academic year 2016 - 2017, our school's attendance figure of 96.1% was disappointingly lower than the previous year. We do not have the national attendance data yet but this will be shown here as soon as it becomes available.
We always write to parents whose child(ren)'s attendance is a cause for concern. Since January 2015, we have been writing to all parents whose child(ren)'s attendance is under 90% telling them they will be in the persistent absentee category.
In a bid to improve attendance still further, from September 2017 we will be writing to all parents whose children's attendance falls below 96%. There is a very good reason for this. Our annual attendance percentage is always around 96% and always above 96%. This means it is more than reasonable to expect our pupils to attend at least 96% of the time.
Attendance information:
Our own school target for attendance is 97.5%.
Good attendance throughout the school year is vital to your child's education and various studies have confirmed this.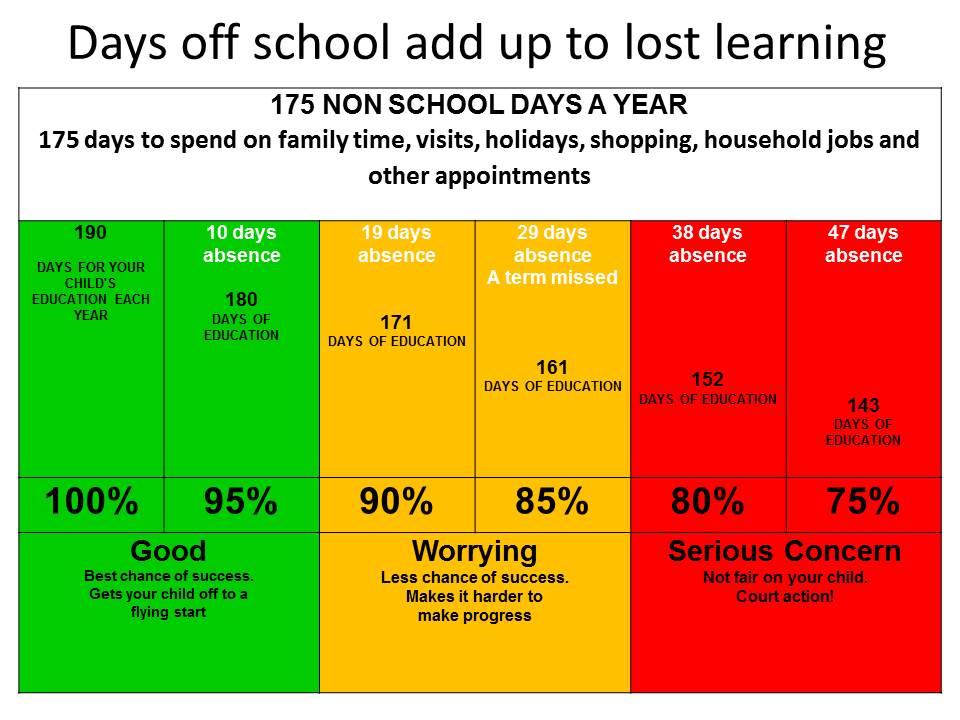 We reward good attendance in the following ways:
Every Monday we have the Attendance Ted award. Each class who has achieved over the school target and higher keeps an Attendance Ted in their classroom for the week.
A roll of honour booklet goes out in January and after Easter naming children who have achieved 100% and children who achieved the school target and over.
Children with 100% attendance will receive a gold certificate at the end of the school year.
A draw for every child who has achieved above the school target, will take place on the last day of the summer term and whoever is pulled out will receive a voucher for a family meal.
We do not authorise any holidays in term time and holidays taken will be marked as unauthorised.
As well as looking at good attendance we also look regularly at poor attendance.
We monitor this in the following ways:
If your child needs lots of medical appointments, we ask you to show the office staff the appointments cards so a copy can be put on file.
In January and after Easter, letters are sent out to families who are currently under 96% attendance.
The Attendance Team will become involved if the situation does not improve.
Our school's attendance policy can be seen by clicking on the link below: