Roald Dahl lunch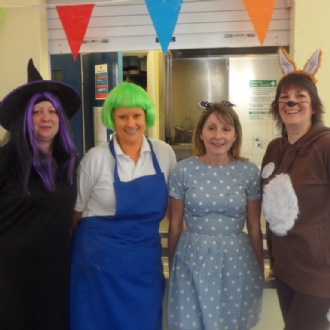 The staff in the Funky Food Hall getting dressed up for the Roald Dahl lunch.
The staff in the Funky Food hall dressed up as Matilda, Oompa-Loompa, Fantastic Mr Fox and Grand High Witch from different Roald Dahl stories.
The children enjoyed a menu of:-
George's marvellous meatballs
Mr Twits spaghetti
Matilda's green beans and sweetcorn
James peach and apple crumble
Charlie's chocolate sauce
The vegetarian option was vegetable meatballs
Please look out for the letters coming home about other special lunches. The next one is on Friday 14th February for Valentines.