Cluster Cross Country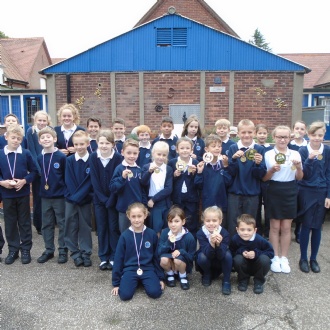 Click here to see how well we got on with the Cross Country.
Cluster Cross Country Competition
On a rather damp and windy day Mrs Hornigold and Mrs Clare took twenty children, from years 3, 4, 5 and 6 to St Clements High School for the annual cross country competition. The conditions were not ideal for the children but fortunately as the time arrived to race the rain cleared up.
Everyone was in fantastic spirits, cheering their school friends on to try to encourage them to do the best they could. They certainly did that! All twenty eight children tried their absolute best whilst competing, from which many successes came our way.
In the year 3 and 4 races we won both the girls and the boys races with Millie Eveson winning for the girls and Jack Codrington winning for the boys. In the year 5 and 6 races our highest finish for the girls was third for Tallulah Moxey (well we had to let another school win something!) and for the boys race we won again with Liam Clare taking the honours. We had a great many medal winners too who finished within the top 10 for their race.
The top six finishers in each race made up a team for the school. Their finishing positions were noted and points awarded to decide the team trophies. I am delighted to say that we managed to win the team trophies for year 3 and 4 girls, year 3 and 4 boys, year 5 and 6 girls and year 5 and 6 boys…a clean sweep. Go team Terrington!!!
Following on from the success of this competition we have fifteen runners who have made the West Norfolk Cross Country Finals at Lynnsport on the 9th of November.
Mrs Hornigold and Mrs Clare were proud to take the children to the competition and of their achievements. Everyone behaved impeccably and tried their best and crucially supported each other.
Well done runners, and here's to the next round!