Cross Country Competition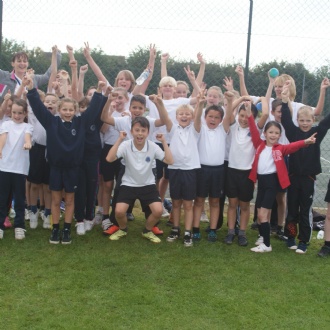 Cluster Cross Country Competition on Wednesday 15th October 2014
St Clement's Cluster of schools held a cross country competition for years three, four, five and six at St Clement's High School. We were fortunate enough to have twenty five runners chosen to represent our school on this occasion.
Thankfully the weather was kind to us on the day, dry and mild, making running conditions much more pleasant (for the supporting spectators too!)
Our group of children were very excited to be running at the event and were all extremely well-behaved throughout. The atmosphere during the afternoon was brilliant with everyone cheering everyone else on, regardless of the school whom they were representing.
All of our school's competitors ran as best they could, gave one hundred percent effort and were pleased by their performance at the end.
We had many successes during the races, bringing back a lot of medals. In the overall year group competition we achieved first place in the Year 3 girls event and the Year 5 boys.
We would like to congratulate all of the children on both their behaviour and running achievements. It was a pleasure to take them to represent our school.
Click here to see more photographs.
Mrs Clare and Mrs Hornigold