Mini tennis competition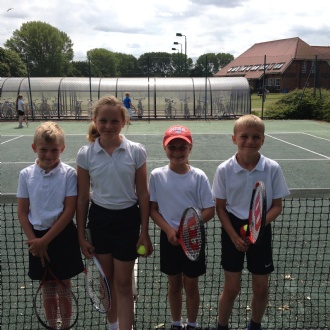 On Friday 20th June our mini tennis team travelled to KES to compete in the King's Lynn and West Norfolk mini tennis competition.
Both teams played four games against the cluster winners from all around the King's Lynn area. Our boys, Liam and Joshua, played some fantastic tennis and all games were extremely close. Our girls, Jessie and Trinity, also played brilliantly and won 3 out of 4 games.
Overall, our team came 6th out of 12, earning 64 points out of a possible 80. It was a great afternoon and all of the children really enjoyed playing at the tennis centre. There were encouraged to keep score of their own games and call when a shot was out. We are certainly all very proud of the four children and look forward to next years's competition!
Look in the cluster sports section to see more photographs.